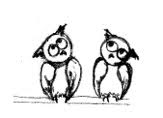 A teaching material on Typhoon Yolanda was developed in January 2016 by IRIDeS team for the fifth grade students as disaster recovery support for the affected children by the Super Typhoon Yolanda.  Tagalog version is also available.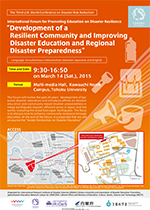 Flyer of International Forum for Promoting Education on Disaster Resilience
The forum was held as one of public forum events of the third U.N. World Conference on Disaster Risk Reduction (UNWCDRR) on March 14, 2015. The forum was held through 'all Japan" partnerships who have been actively involved in promoting disaster education in Japan, which include International Research Institute of Disaster Science, Tohoku University, Cabinet Office, Ministry of Education, Culture, Sports, Science and Technology, The Disaster Education Promotion Association and Japan Disaster Education Liaison Network for UNWCDRR.